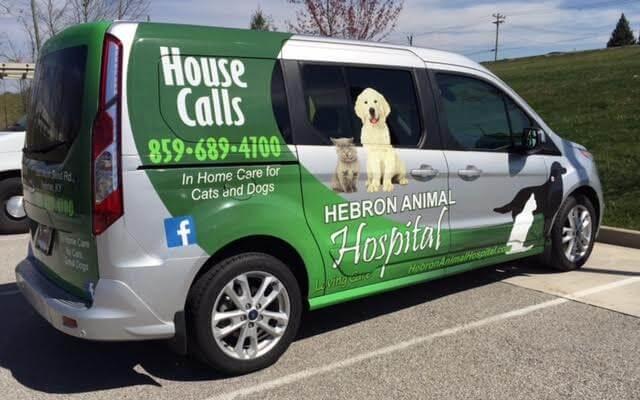 Does your cat or dog hate going to the vet? Many owners have told us "Yes" and we've listened!
Hebron Animal Hospital, Northern Kentucky's state-of-art hospital is proud to announce our House Call Practice.
Whether it be a preventive care exam and vaccinations, or an examination for an illness or on-going problems, our caring and expert team can come to your home to see your furry family member.​
The mobile team is available, by appointment, to come to your home Monday through Friday. They will be equipped to perform most services that are normally performed in our hospital's exam rooms. These include:
Well Pet Examinations, including kittens, puppies and geriatric patients
Vaccinations
Examinations for illness, as well as other new and on-going medical problems, such as skin conditions, pain control and hospice care
Feline Leukemia, FIV and blood tests
Fecal examinations for intestinal parasites
Mobile pharmacy, including prescription diets and flea, tick and heartworm preventatives
If the doctor provides a recommendation for more advanced services, such as radiographs (x-rays), surgery or even overnight hospitalization, the mobile team can transport the patient back to our hospital. You can then either pick up your pet or we can taxi him or her back to you.
Finally, our veterinary team knows how difficult end of life decisions can be. For those wishing for the "final good bye" to occur in the home, our compassionate mobile team can perform the euthanasia procedure there, as well transport the remains for aftercare.
Please be aware that this is not an ambulance service. All urgent problems and emergencies should be brought to our hospital immediately. Our team of veterinarians and veterinary nurses are on the premises normal business hours to care for emergencies.
To make an appointment for a house call visit or any other service, including in house appointments or boarding please call us at 859-689-4700.