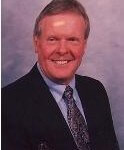 The Hebron Animal Hospital was founded by Dr. Paul B. Altemuehle in January of 1977. The original site served as a professional dog kennel before being purchased and was converted to a small country veterinary practice by Dr. Altemuehle.
practiced both small and large animal medicine and surgery until 1988, when his health concerns limited him to the practice of Companion Animal medicine and surgery. Dr. Altemuehle graduated from Auburn University College of Veterinary Medicine in 1964, and has served the community with love and compassion for the people and pets of Boone County in many facets. Dr. Altemuehle semi-retired in the Fall of 1999, and fully retired in August of 2004. Dr. Altemuehle passed in September 2006.
Dr. Altemuehle served on the Boards for the Hebron Fire Department and the Boone County Fair for many years. He was always smiling whenever he got to pursue some of his "little passions", including setting up his Martin Houses, setting out feeders for the birds and squirrels, tending to his orchard, or just puttering around on his tractor. He loved the outdoors and ALL animals. One of his fondest veterinary memories was serving the USDA after retirement, going to England for 5 weeks to travel the British countryside to test the farm animals and work to eradicate Foot and Mouth Disease. Dr. Altemuehle is dearly missed by all who knew and loved him.
Today:
Dr. Gregory T. Lloyd began working for Dr. Altemuehle part-time in August of 1998, in addition to his full-time duties as a surgeon for a large hospital in Cincinnati, and his moonlighting surgery practice. In November of 1999, Dr. Altemuehle chose to retire, entrusting the practice to Dr. Lloyd. With diligence and dedication the practice has been launched into the 21st Century with the most up-to-date equipment and drugs, as well as experience and knowledge that can be afforded the pets and people of Boone County.